Stewardship of God's gifts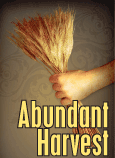 Abundant Harvest is a tangible way for each of us to express our common faith. This is not just fundraising or a not-for-profit "pledge campaign." It is more than that. As a Christian community we affirm the ancient words, "All things come from you, O God, and of our own we give to you." Our life and all that we are and have are God's gifts. In gratitude we give our tithes and offerings for the spread of God's kingdom, God's reign.
The theme of Abundant Harvest has been chosen to tie into the Ripe for Harvest process. Through Ripe for Harvest each of us has been given opportunity to identify celebrations, challenges and dreams at the Cathedral. In the months ahead we will use this information to help shape our ministry. Already in 2013 we hope to call a part-time youth minister. We will also begin an intentional ministry of welcome and inclusion of new persons. These are among the priorities you have named!
What each of us gives supports Cathedral programs and outreach. More importantly it honors God, the "gracious donor of our days." Please consider prayerfully what you will give for mission and ministry in the coming year. Through Abundant Harvest by God's grace, we will gather in the resources necessary to accomplish this work and even more.
At every Eucharist, Sunday, November 18, we will dedicate ourselves and the offering of our resources for God's work through the Cathedral and beyond. Pray that our harvest for God's work be abundant!
---
Pledge Form
When you are done, please print a copy of this pledge form for your records.
As a steward of God's gifts, in gratitude for all God's blessings and to further the ministry through Grace and Holy Trinity Cathedral,  I/we offer this pledge.
When you are done, please print a copy of this pledge form for your records.